Stick-pack for flytende produkter
fallpakker for flytende produkter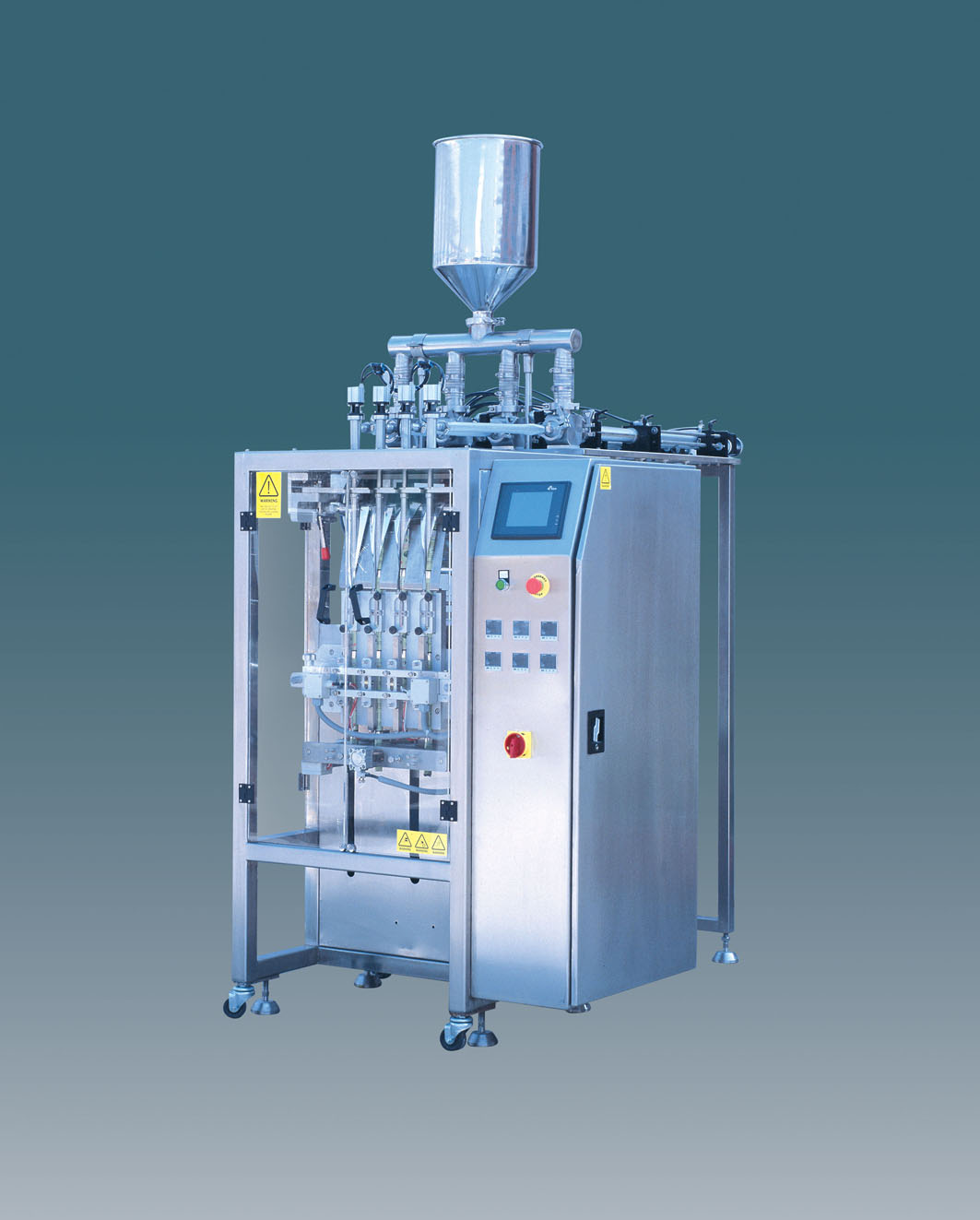 Art Nr.: 1-12 linjers Stick-pack (1)
About this product:
Packaging materials: widely used in: If shampoo, shower gel, facial cream, flavoring oils, jams, sauces and other liquid materials.

Product Specifications:
Packaging Capacity :50-250ml / bag
Packing speed: 50 bags / min single column
Bag capacity: single row 10mm ≤ W ≤ 25mm × L ≤ 150mm x 4 Lie
Packing film width: ≤ 360mm
sealing Type: Cover letters back seal width :3-6mm
transverse sealing lines: ruled, Wang Feng width :5-10mm
cut off by: Yi-tooth pattern cut another tear-free gap
Packing speed :20-50 bags / min (separate)
specific parameters can be ideal to meet customer requirements
packing film: composite packaging materials, such as: BOPP / PE
Working Voltage: 220V/50HZ single phase 2.4KW
Machine Weight: 350KG
Air Source Pressure: 6Kg
Air Consumption: 2 m3/min
Basic configuration:
Panasonic PLC + EView touch screen control, error, self-diagnostic function
"AIRTAC" pneumatic components YAMATAKE 4 Road, PID temperature control
4 Lie cutter wheel sub-machine purchases (no flash device)
transverse sealing bag pull, AELTA frequency converter control
Metal Forming tube vibration device under the

Metering devices:
QG25 pneumatic piston pumps (4, containing no material alarm function)
Measurement range :50-250ml stepless adjustable

Product Description:
The company developed the PM Series Automatic 4 back packet installed, advanced technology, convenient operation, widely used for the corporate business, providing the perfect packaging equipment, greatly improving the efficiency, replace the pre-bag forming and successfully applied to food, medical, chemical and other manufacturing industries.

Features:
1. Advanced technology, sophisticated manufacturing process control systems, human design, high degree of automation, fault self-police, self-stop, self-diagnosis, safe easy to maintain fast and automatically display the number of packages can easily be worked out, the work of the machine volume.
2. Seal's unique embedded design, enhanced sealing institutions, two-way PID temperature control, has a good thermal balance test various packaging materials, low noise, sealing lines clear, strong seal.
3. Machine modular design, versatility and can be changed with a different measuring devices (electronic weigh devices, liquid devices, particle devices) to achieve a multi-purpose machine, saving valuable factory investment.
4. Machine more than one bag of soft, fast, high efficiency, the productivity increased substantially.
5. In accordance with the requirements of customers with stainless steel chassis, or the installation of coding devices, flat and easy to tear off the gap devices, finished products and other related equipment supporting conveyor belt assembly line, solving the depletion of the human cost to raise their work efficiency .
6. The use of advanced pneumatic control system for control of sealing bodies pull bag, high precision, replacement parts can be changed without bag length, stepless speed adjustment within the framework of the rated institutions, can be realized pulling bags of speed control.
7. The use of advanced cursor tracking system, packaging, packaging materials, non-ferrous target, the availability of a complete trademark logo.
8. Open-mechanical mechanical design, contact with the material used in all high-quality stainless steel, ensuring the process of non-polluting materials, machinery and cleaning convenient, fully meet pharmaceutical GMP and food safety certification requirements.
9. Electric control part adopts the French Schneider control switch, Japan, Omron relay, the United States ressaix stepper control system to ensure stable operation of the machine to achieve high efficiency, low-volume production failure.